Growing a business in the digital world, automation is a hot topic. In fact, these days, automation is mandatory. Some people are convinced that SEO is dead. In reality, they just haven't revised their approach like they need to. Using a software or tool to handle repetitive tasks you'd otherwise have to do manually can save you a ton of time. It'll also unearth valuable insights you wouldn't be able to find on your own. What is SEO automation, exactly? How can it work for you? And importantly, how can you be leveraging it to take your content and search engine rankings to the next level?
Let's go!
How to Handle SEO Automation in 2022
First, let's talk about what we mean when we refer to "SEO automation."
You might already be automating things in your business. If your email subscribers are sent a series of messages that you pre-loaded into your email marketing software, that's automation. If you have a social media management tool posting on your platforms for you, that's automation.
But how does this apply to SEO?
In the case of search engine optimization (in most cases, really), you can't automate the entire task. Why? Simple. SEO is not a set-it-and-forget-it responsibility. Rather, there are parts of the process that you can automate.
What SEO Tasks Can You Automate?
Great question! Here are a few SEO-related tasks that many brands automate.
Rank Tracking
This is one of the biggies when it comes to SEO automation. The overarching goal of search engine optimization is to get a website ranking higher in search engine results. But how can you keep track of what you're ranking for and where you're ranking? An SEO automation tool!
An SEO tool will look at each page of your website and tell you where it's ranking and what it's ranking for. See where you're winning and where you need to improve. While there are no guarantees with SEO, knowing where you stand is the first step in improving.
Competitor Analysis
Whether we like it or not, competition is a huge part of getting on page one of Google. The search results are getting more saturated by the day. Keeping a finger on your competitors' pulses and monitoring their tactics pays off.
Yes, you can go to their websites and read their content. But what keywords are they outranking you for? What pages are ranking? What can you learn from that content? Where are their backlinks coming from? (More on that in a minute.)
These are just a few questions to consider. The point is this: SEO automation makes it possible to not just catch up to your competition but leave them in the dust.
As an example, we love using the Competing Domains section in Ahrefs to see who a client's competitors are, what keywords they're ranking for, and so much more.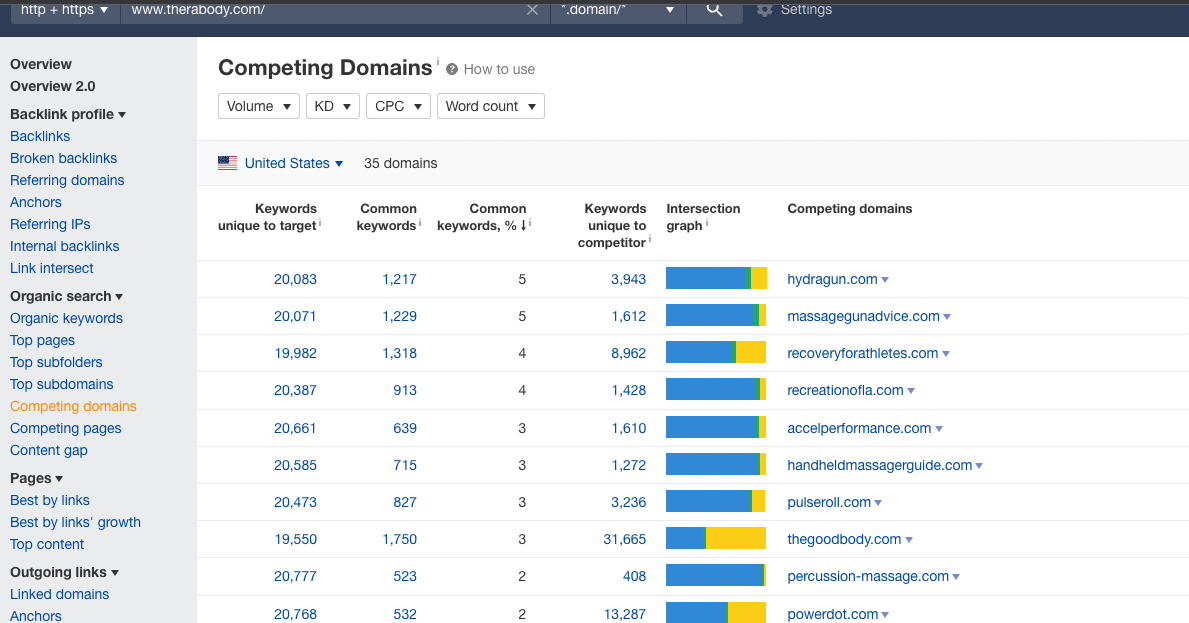 Website Performance
There are a lot of moving parts when it comes to your website — countless variables that, if they're not functioning, can hurt your rankings. Here are a few examples:
Broken images.
Broken links.
Slow page load speed.
Poor mobile experience.
Expired security protocols.
Missing titles, headers, or descriptions.
Titles that are too long.
An SEO tool can crawl your website, flag any issues, and alert you of them. Without this type of tool, you'd have to manually go through every single page and check everything by hand. Quite a big ask. SE Ranking 's Website Audit Tool is amazing for this.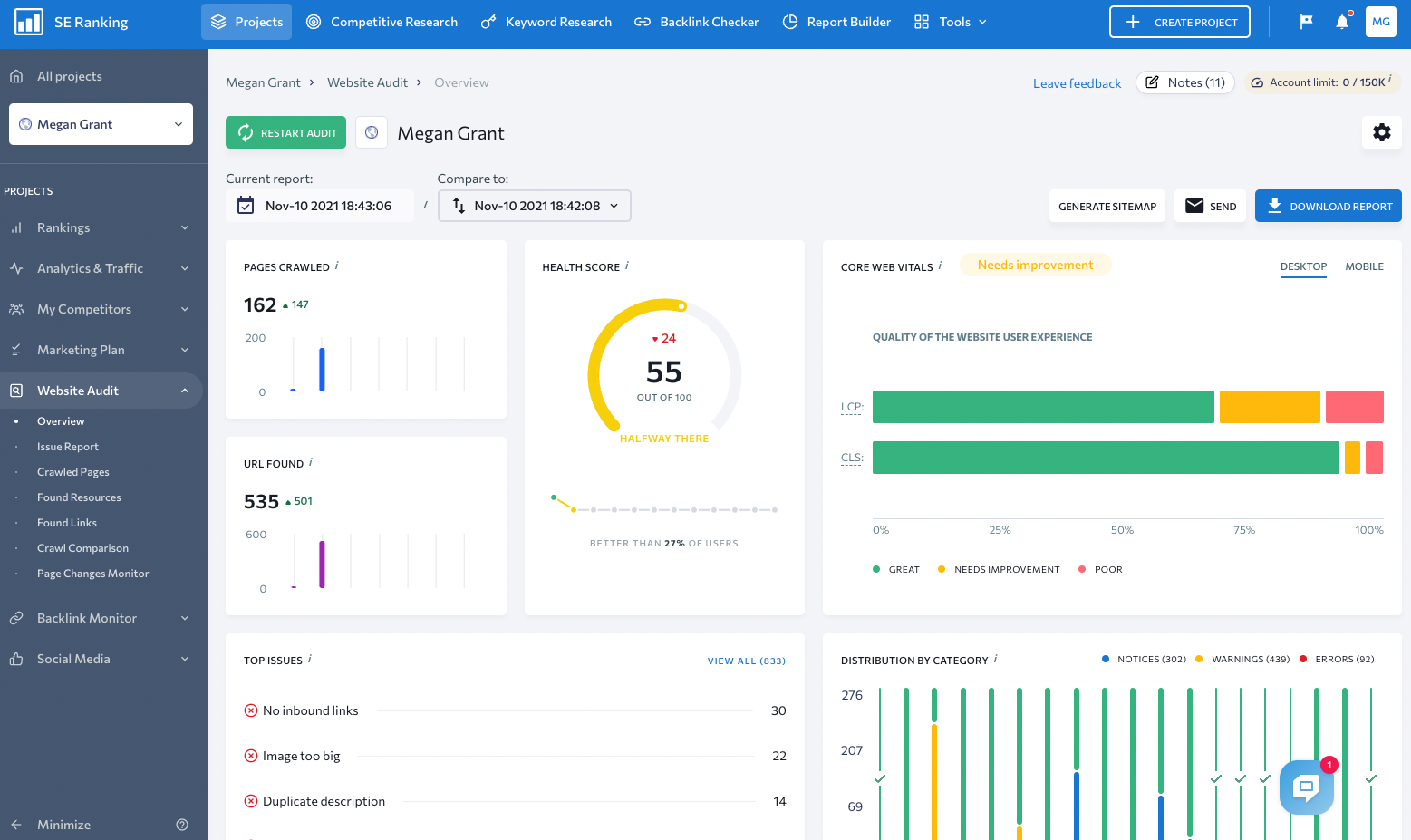 Backlink Analysis
A backlink is a link on another site that points to your site.
Google cares about backlinks. The more you have, assuming they're from trusted websites, the more they contribute to higher rankings. So, building your backlink "profile" can help you rank higher.
How do you do this? SEO automation! Using an SEO reporting tool, you can see who has already given you a backlink. But importantly, you can snoop on your competitors. Who has given them backlinks? You might consider reaching out to them and see if they're interested in collaborating and giving you a link, too.
Without SEO automation, backlink analysis would be almost impossible.
Reporting
Consider all the things we've mentioned on this list that you can automate. Now imagine all the data that comes from these things. You could spend countless hours aggregating it all together. Or you could let an SEO automation tool do it for you.
Generating reports helps you keep tabs on everything. It's an opportunity to deep-dive into the numbers and hone your SEO strategy. You might download reports of your rankings or a competitor's backlink profile. Perhaps you download the results of your latest website crawl.
The point is that SEO automation makes it possible to collect and organize an immense amount of actionable data.
What Can't You Automate?
When some people think of SEO automation, they imagine a machine that's going to spit out all the keywords they need to rank for and exactly how to use them.
This (unfortunately) isn't how it works.
There's a reason our team spends hours generating data and reports for our clients. It's that getting all the numbers is one thing. Analyzing them is another entirely.
You can use SEO automation to find keyword opportunities. But it's up to a human being which keywords you target and how exactly you create content around them. We don't pick a random keyword and blog around it. We're considering questions like:
Is this keyword at the top of the funnel or the bottom?
Does it have informational intent or commercial intent?
Will long-form vs short-form content work better or not?
Is this keyword too competitive?
Is the monthly search volume high enough?
Who are we trying to outrank?
What is their domain authority?
And on and on and on. SEO is a very multi-faceted thing. Software can only do so much.
So, How Do You Get Started with SEO Automation?
Another great question!
You're going to need a tool/software to help you, and you have plenty of options. We've already published a blog on what we think is the best SEO reporting tool, with a list of alternatives, as well.
Most tools offer a free trial. It's likely going to limit what you can access. But in our experience, free trials tell you at least enough to decide whether want to invest in them.
And, don't be scared to compare a few tools. Many of them do a lot of the same things, and many of them are excellent! Find one that feels good to you and learn how to use it.
Speaking of learning, there is a learning curve. In fact, it's quite a steep one. These tools aren't for the faint of heart. Many of our clients came to us already using a tool themselves. But they quickly learned that SEO and content creation is a full-time job — which brought them to us. Can you do this on your own? Absolutely, if you're willing to invest real time in it.
But many brands find that it makes more sense to bring in the experts. That would be us.
We are total nerds with data. We love it. And writing is kind of our thing. If you need help with your blog content, we want to hear from you! Contact Spark Content Agency today.