Ranking in Google is a lot harder than it used to be, which means that you have to work harder to get make your brand visible on page one. At Spark Content Agency, one of the rules of thumb that we live by is know your numbers! The only way you can possibly know if your content is succeeding — and how you can improve it — is to use an SEO reporting tool. In this blog, we'll share what (in our humble opinion) is the best SEO reporting tool, along with a few other alternatives, in case you want to test them out!
The Best SEO Reporting Tool for Winning the Google Game
Some brands come to us wondering if SEO is dead. Nothing could be further from the truth. After using software and tools to refine our strategies for our clients — and producing thousands of pieces of content in the process — we can tell you that without a doubt, SEO is alive and well.
The best SEO reporting tool that we want to introduce you to is (drumroll) Ahrefs !
Now, this tool in incredibly robust, so we couldn't possibly tell you all of the amazing things it's capable of. Rather, we're going to share some of the highlights. Spark uses this tool religiously, and our owner, Megan, is pretty much obsessed with it. (We love geeking out on numbers.)
Ahrefs is one of the reasons our clients' content performs so well. Let's dive in!
BTW, to be clear, this post is in no way sponsored. We're just huge fans.
Use Keywords Explorer to Find the Most Powerful Queries
All successful content starts with keyword research. Let's say we have a very general idea of what we want to write about: SEO. But what about it?
In Ahrefs, we can enter SEO and then click on the magnifying glass icon: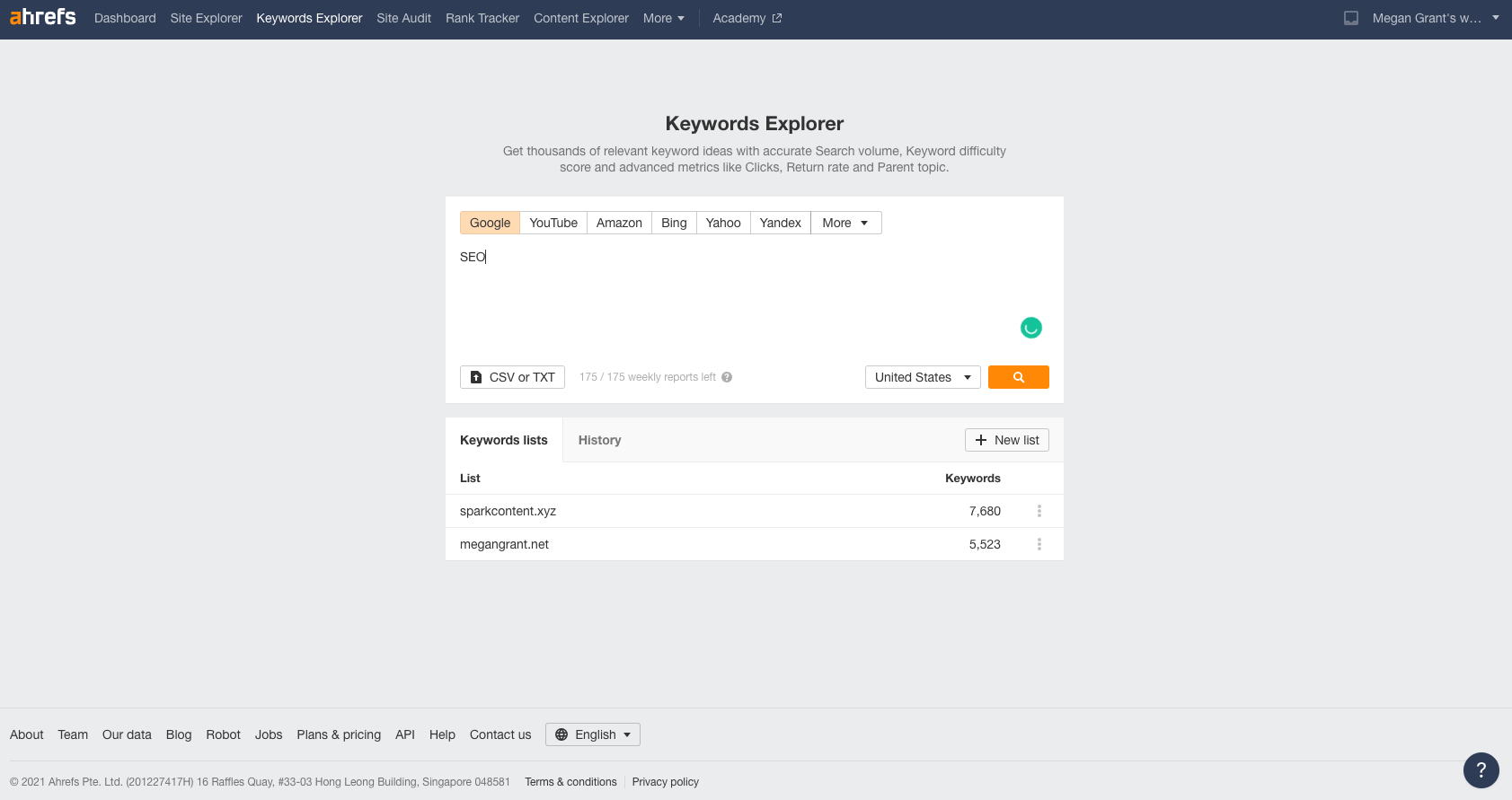 The next screen gives us tons of information on this keyword: "SEO." We see metrics like its:
Difficulty.
Monthly volume.
Traffic potential.
Related keyword ideas.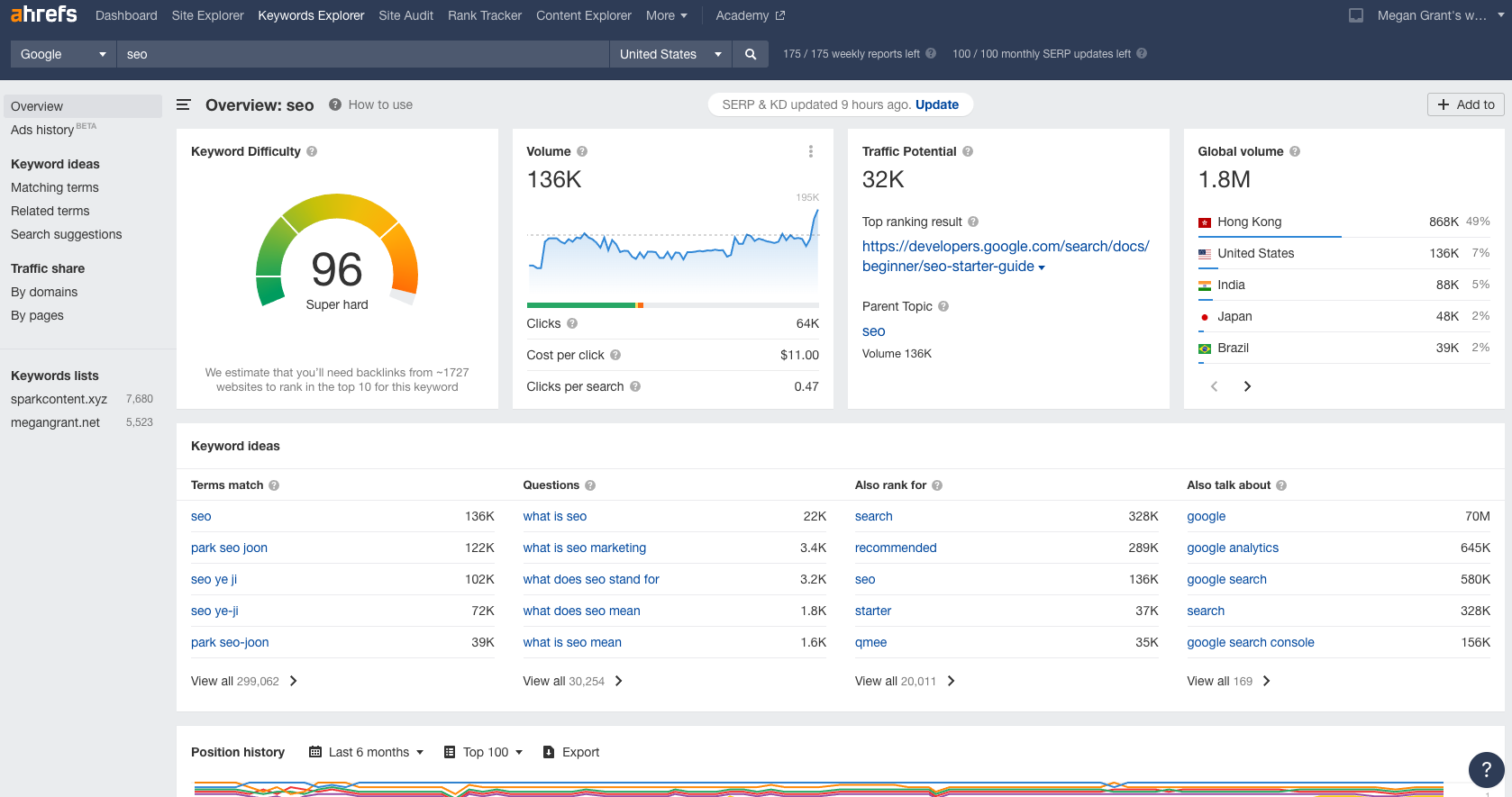 We're going to click where it says Questions. We do this because very often, people using Google are typing in questions!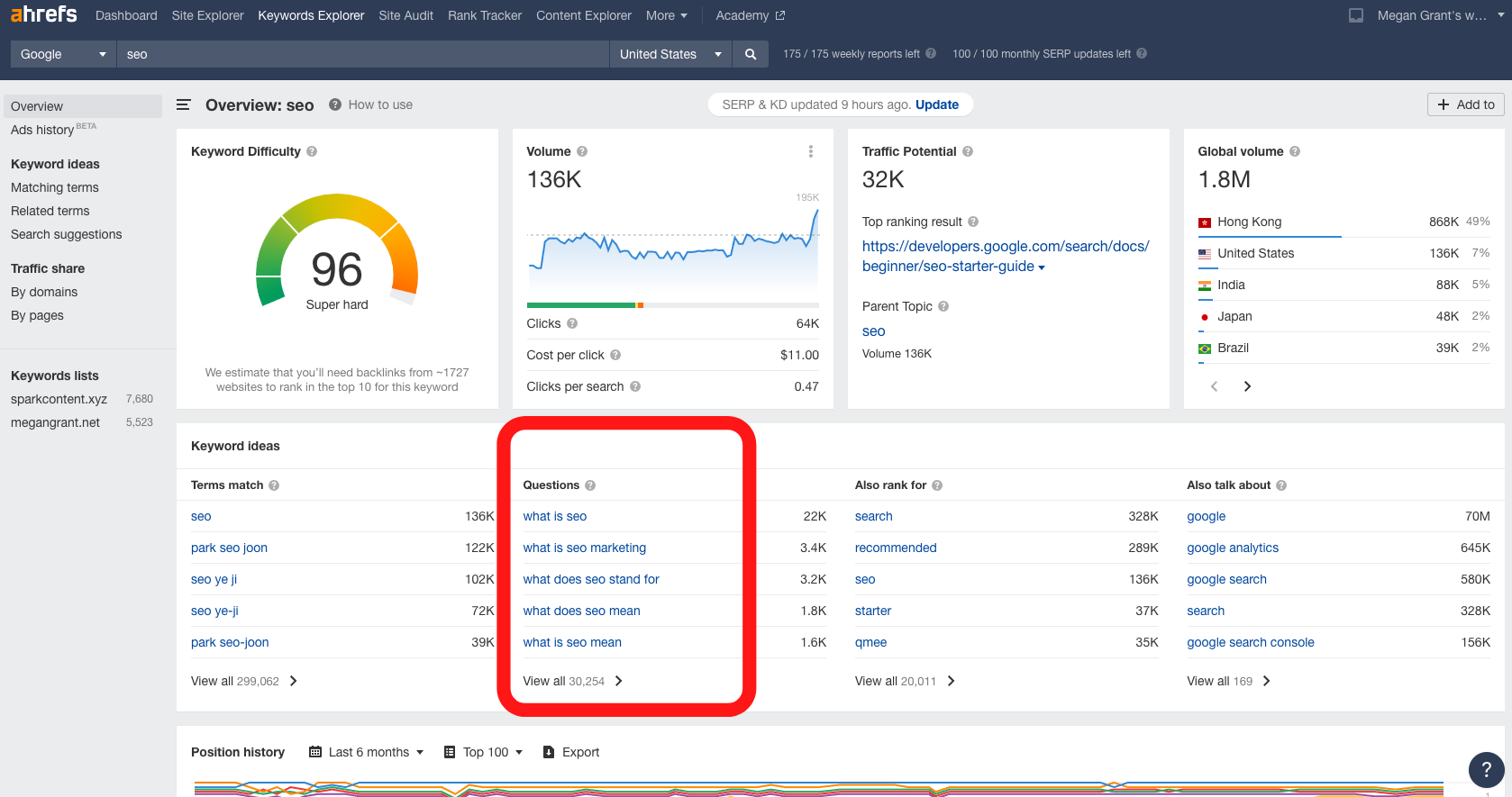 From here, there are about a billion things we could do. But as your first steps, you might consider filtering these results by KD (Keyword Difficulty), Volume, and SERP Features.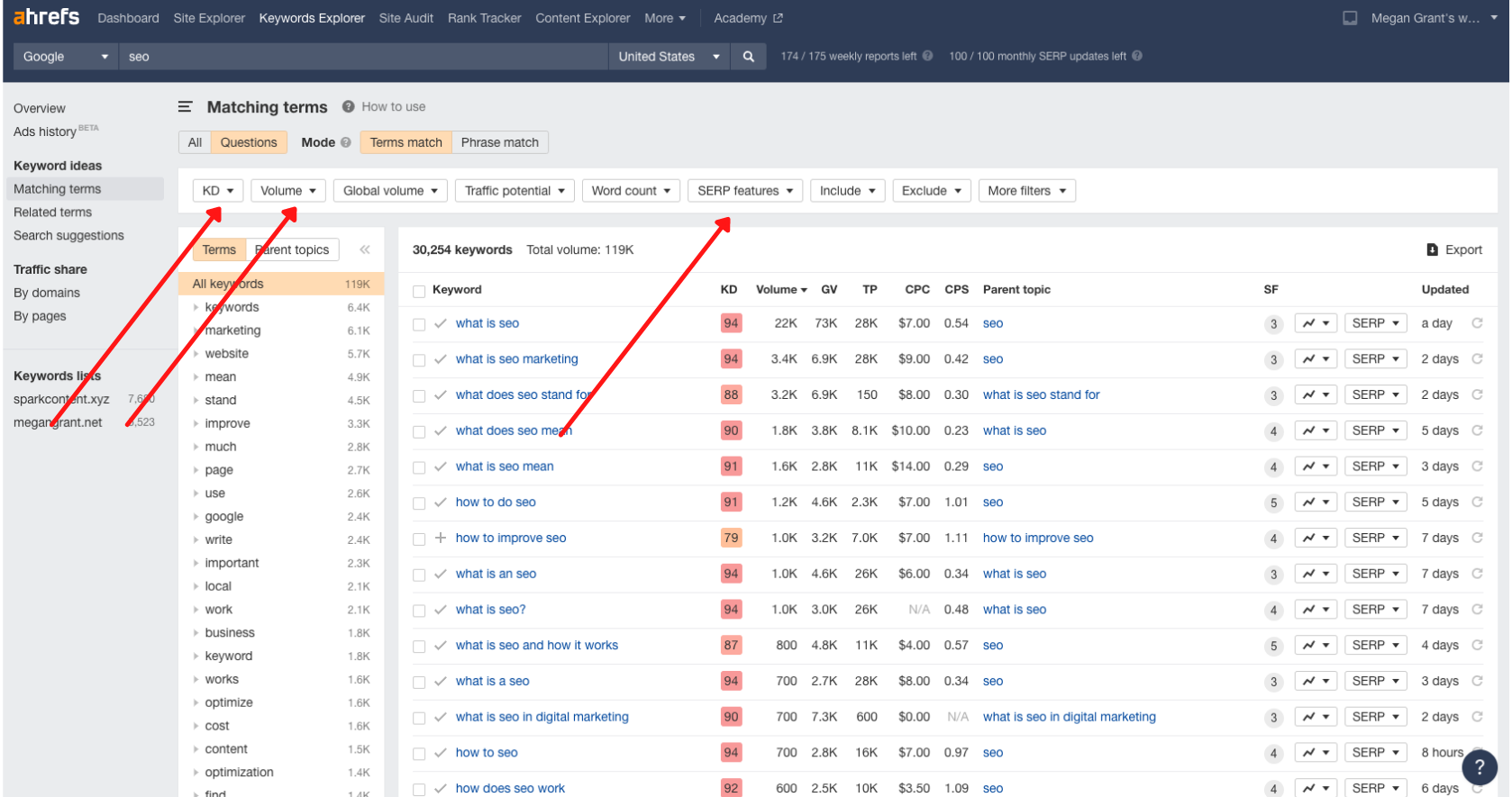 This can help you narrow down keywords that are (1) low-competition and (2) high-volume. Then, you can use SERP Features to identify keywords that have either informational intent (people who are simply researching) or commercial intent (people who are looking to buy).
Get All the Deets on a Website Using Site Explorer
Next, let's go to Site Explorer in Ahrefs and enter our founder's website: megangrant.net. Click on the magnifying glass icon.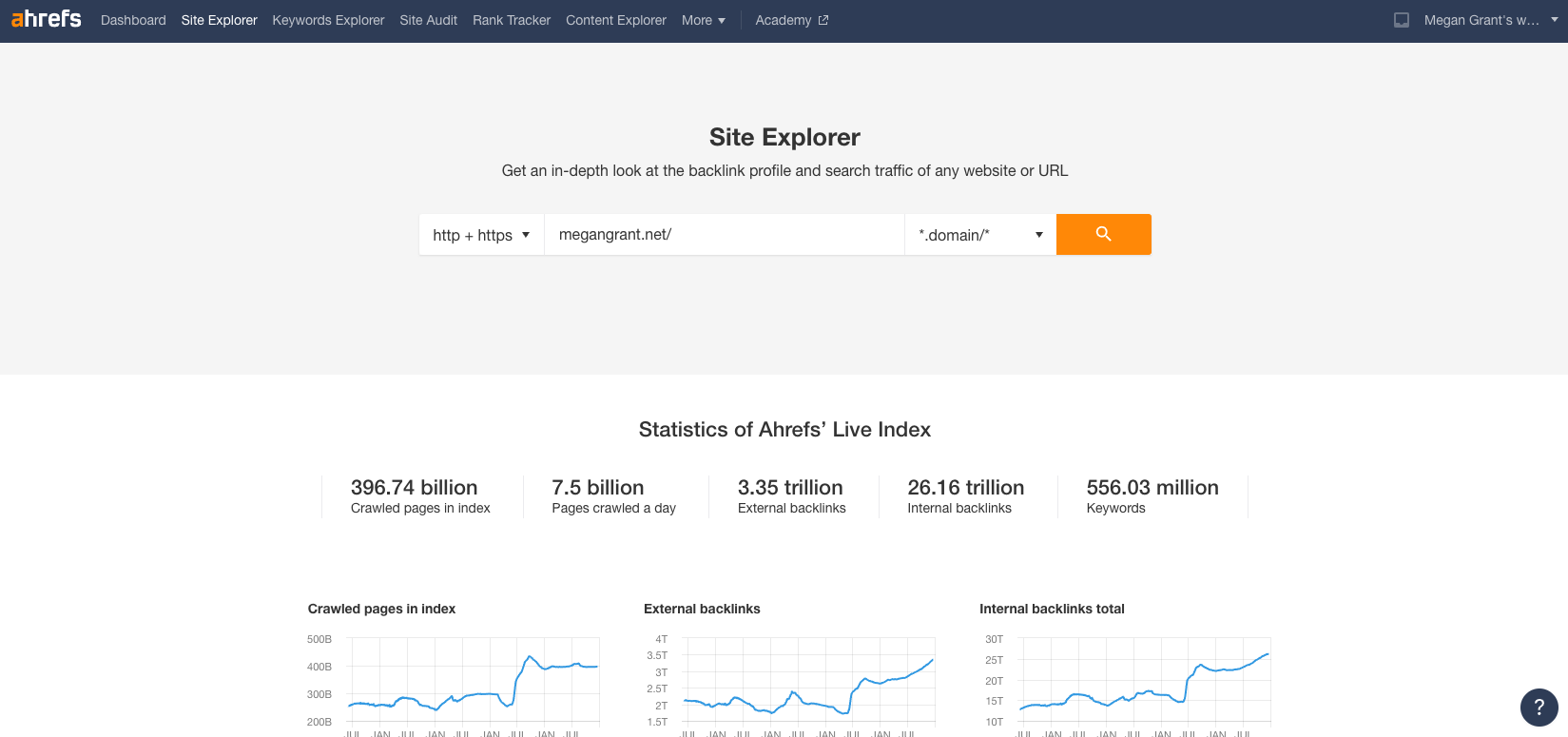 Note: You can put any website in here, even your competitors'! This is a great way to "spy" on them. Here's what we first see. There's a ton of valuable information here. Specifically, we want to point out UR, DR, Backlinks, Organic Keywords, and Organic Traffic.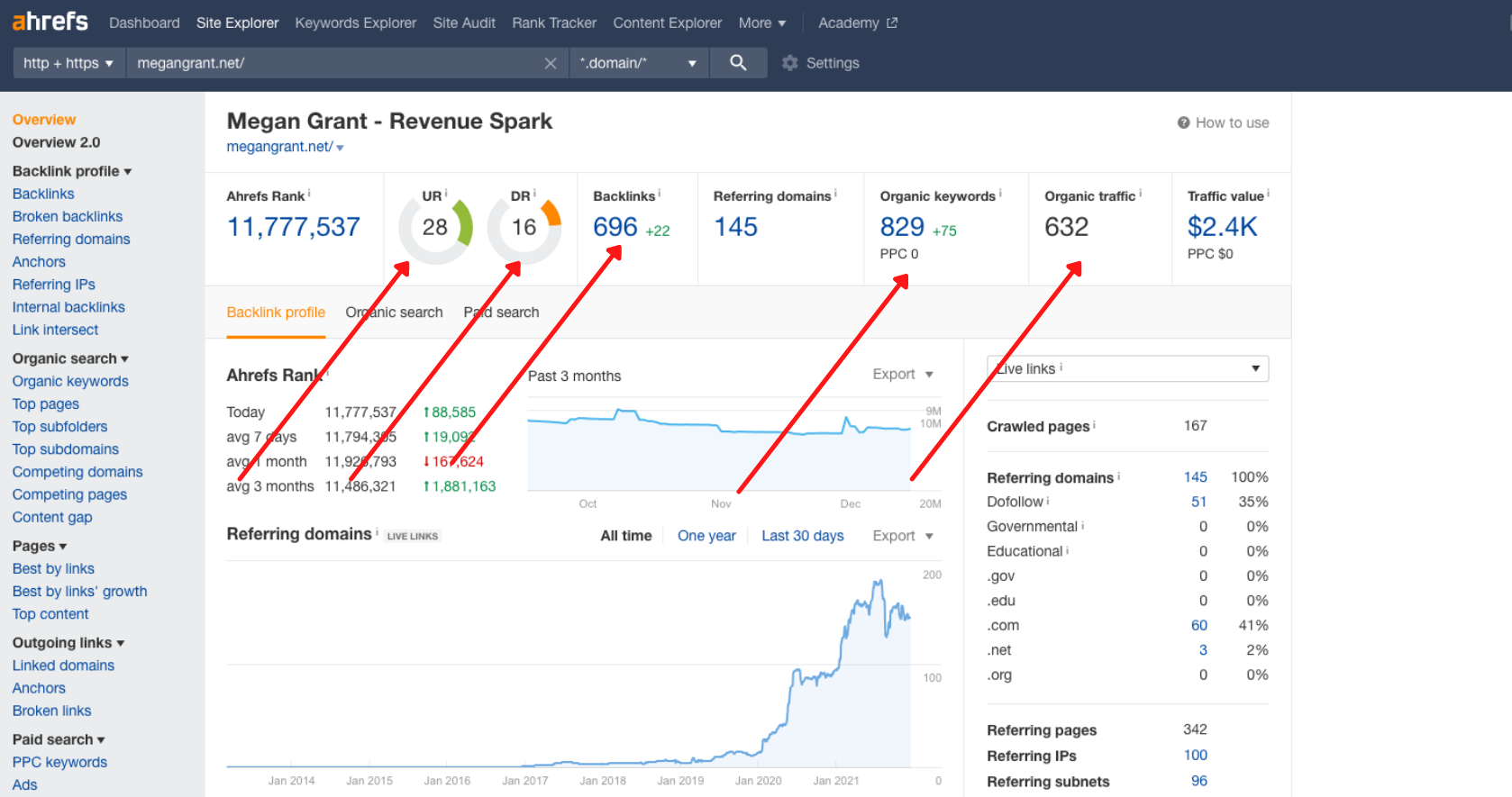 UR is URL Rating. This is a rating out of 100 that tells you how strong that link is. The higher the UR, the better.
DR is Domain Rating. This reflects how strong that website's backlink profile is, on a scale of 0-100. We care about backlinks because it's one (of many) factors that Google looks at when it's deciding how to rank you. The higher the DR, the better.
Backlinks represents the total number of outside links pointing to your website. The more high-quality backlinks you have, the better!
Organic Keywords tells you how many keywords you have currently ranking in the top 100 positions in Google. The higher the number, the better.
Organic Traffic is how many hits that site is getting in Google search every month.
This is just barely scratching the surface, but these numbers can tell you how well a site is performing in Google. For instance, if you look up a competitor and see that they have way more backlinks than you, then you might want to consider working specifically to build your backlink profile.
You can also click on each of these sections to get more information. If we click on Organic Keywords, here's where it takes us.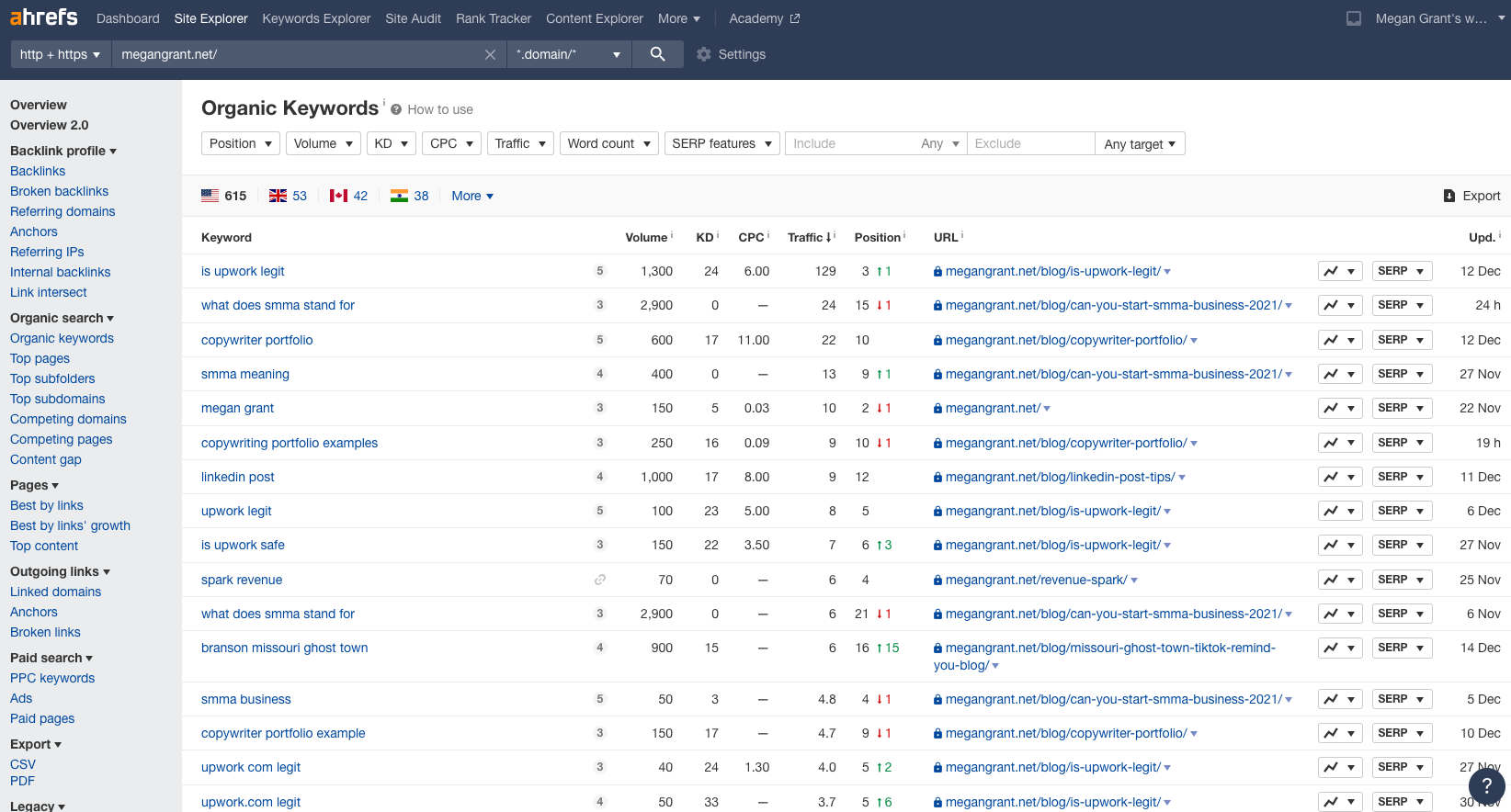 Here we see important information like:
The keywords that this site is currently ranking for.
The URLs associated with those keywords.
Roughly how much traffic those keywords are bringing the site.
Use this information to where you're winning, what could be improved, and to come up with new keywords to target.
Snoop on Your Competitors Even More With Site Explorer
Let's go back to Site Explorer, after entering the domain megangrant.net. In the left-side menu, click on Competing Domains.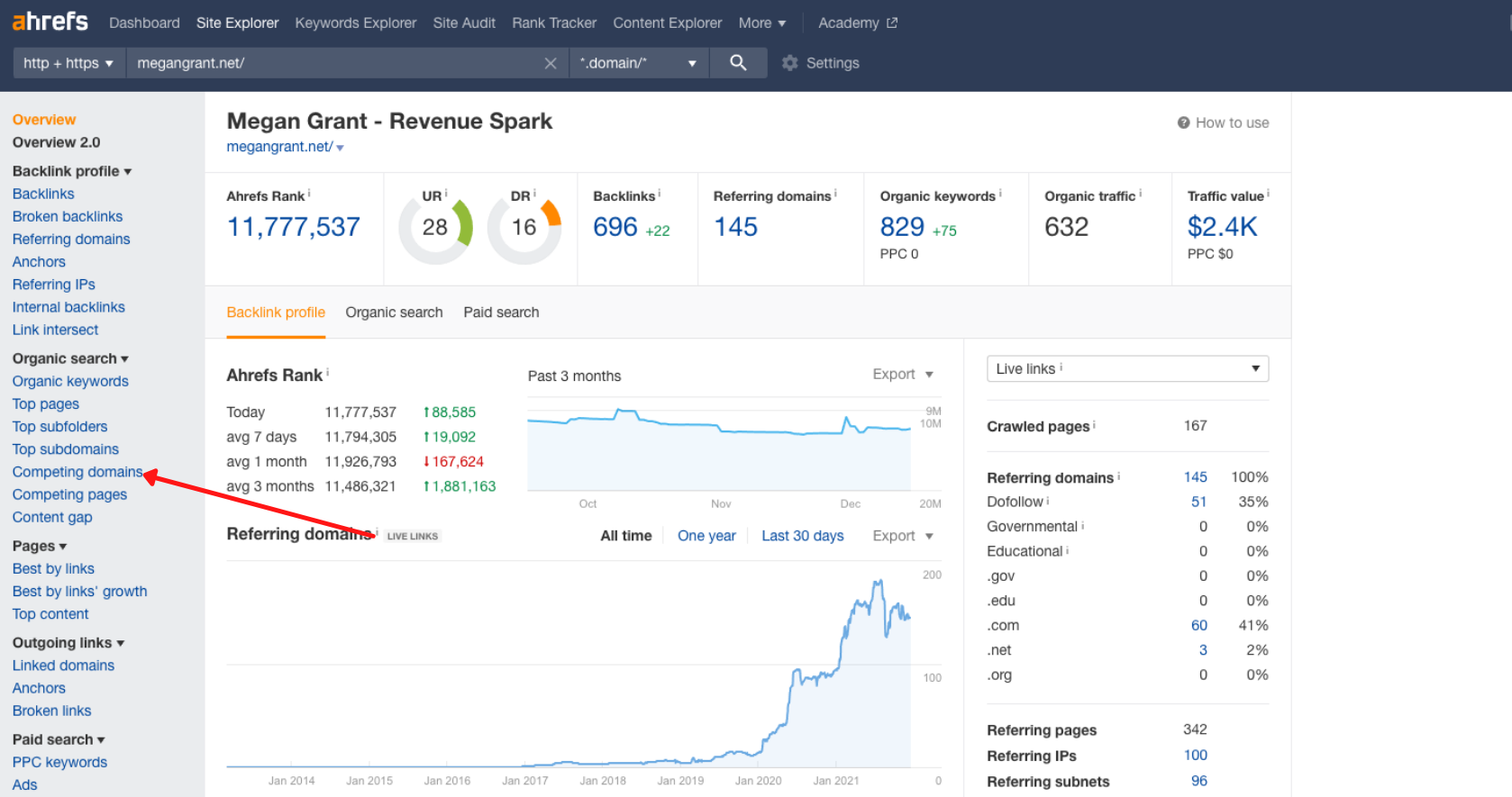 This shows you — you guessed it — the domains that this website is competing with!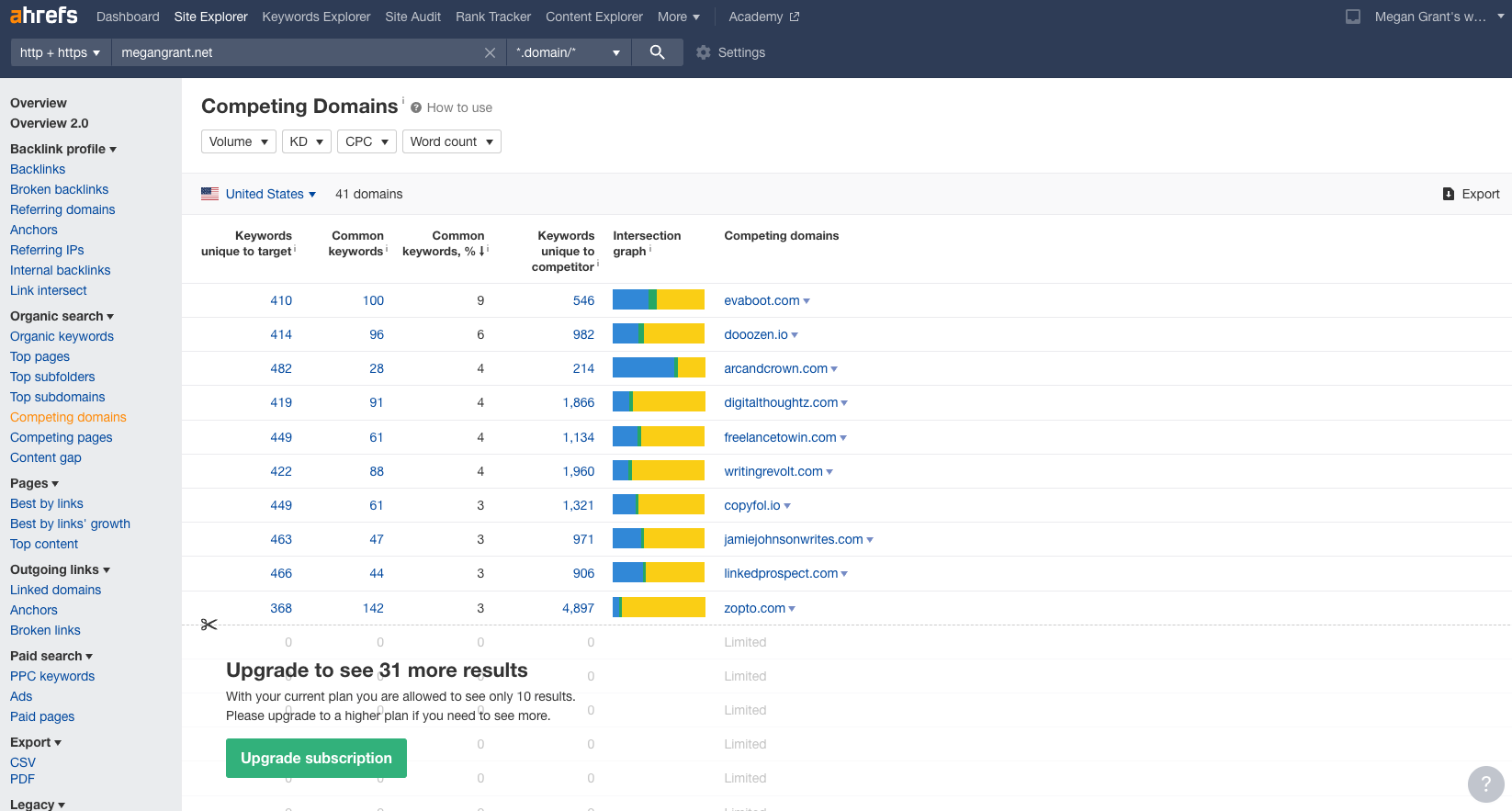 One thing we want to point out here is Keywords Unique to Competitor. These are keywords that they are ranking for, that our site is not.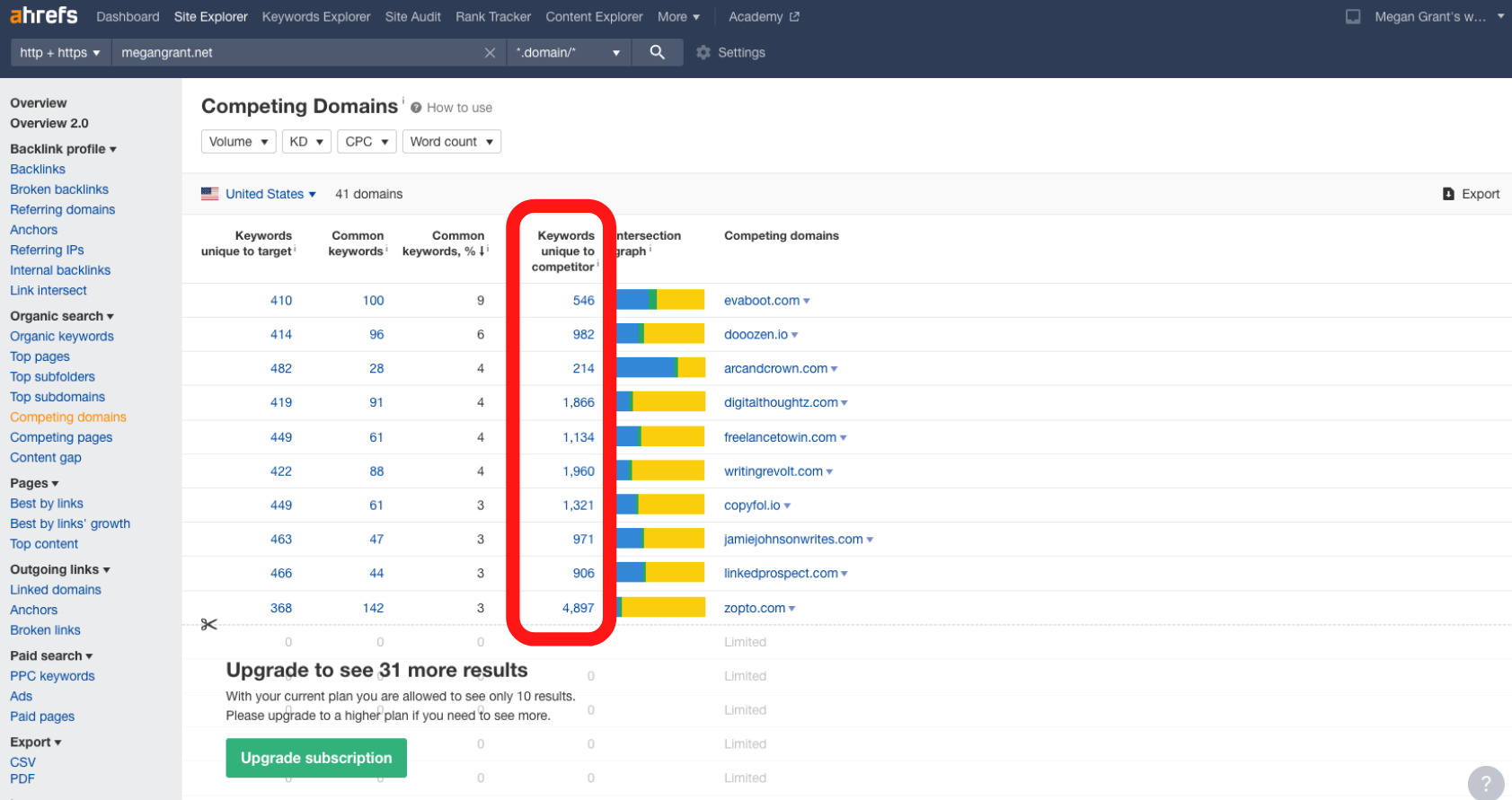 You can click on that and find out exactly where your competitor is outranking you.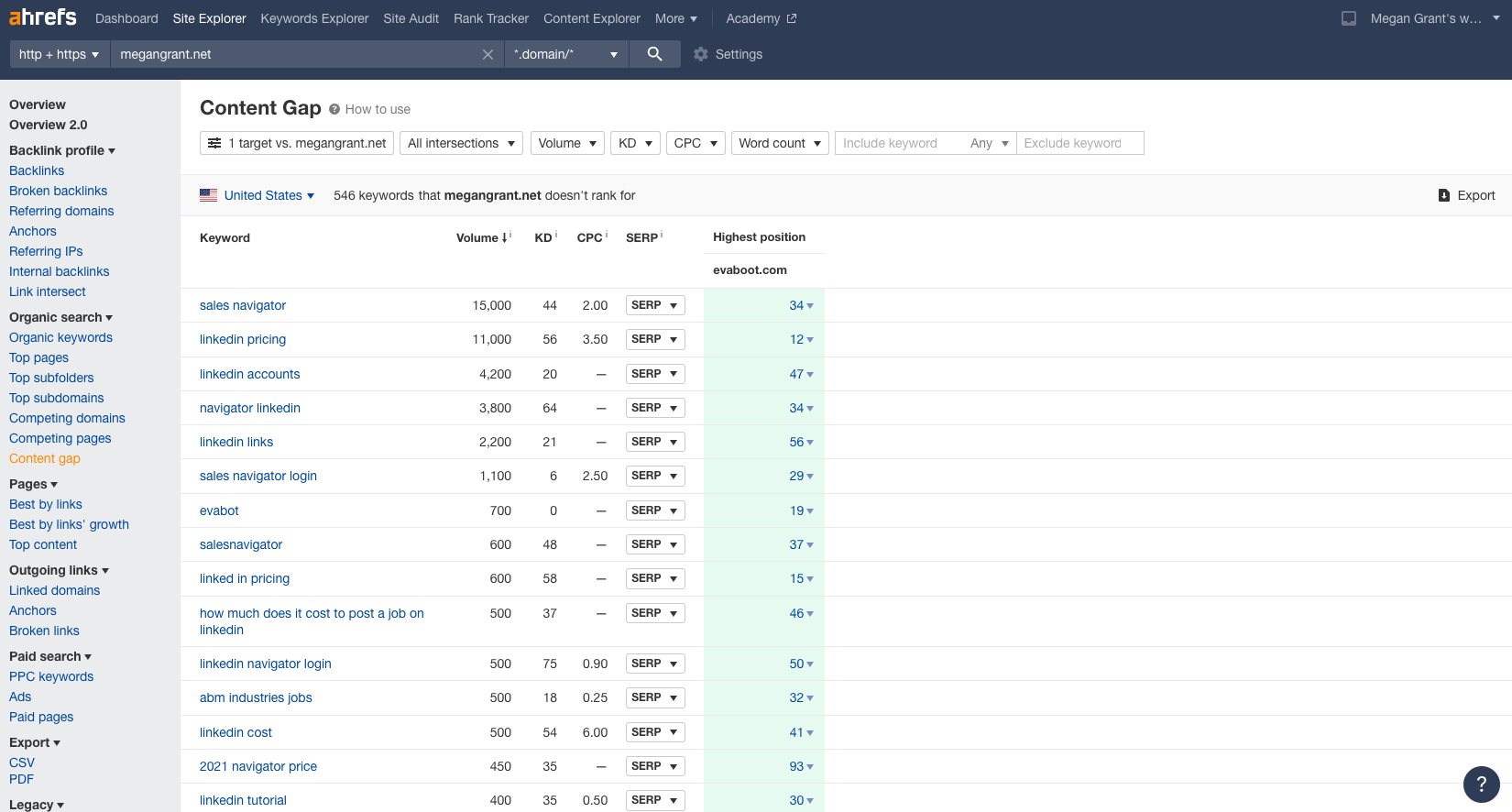 Pretty cool, huh?
We can't stress this enough: This is just barely the tip of the iceberg when it comes to what Ahrefs is capable of and how we use it. When we start working with a new client, we spend a couple of days creating a very in-depth keyword report, where we dive into:
How their site is performing.
Where they're winning.
Where they're losing.
What content needs to be improved, and how.
Where their competitors are winning and losing.
What keywords we need to target to outrank their competitors.
And so much more.
Confusing? It is! There's a huge learning curve with SEO reporting tools like Ahrefs, but that's because SEO in and of itself is incredibly multi-faceted. This is why brands often (very intelligently) outsource their SEO and blog writing to agencies like Spark.
SEO is fun, but it's a beast. If you ask us, Ahrefs is one of the best SEO reporting tools out there, and it's pivotal in the work we do for our clients!
Now, if you work with Spark, as we said, this is the tool we'll be using. If you're currently managing your SEO on your own and want to test out others, here are a few more suggestions.
4 More SEO Reporting Tools
These tools are very different in terms of their complexity, so we're going to split them up into two categories.
For Newbies
Keywords Everywhere
Keywords Everywhere is super simple but still very insightful.
First, visit their pricing page , because you need to purchase credits. Start with the lowest tier: 100,000 credits for $10. It goes far!
Once you've installed the extension, you can search any query in Google, and KE will tell you the monthly volume, cost per click (CPC), and competition of that keyword.

On the right side of your screen, it gives you even more information, like the history of that keyword (Trend Data), related keywords, and the People Also Search for results.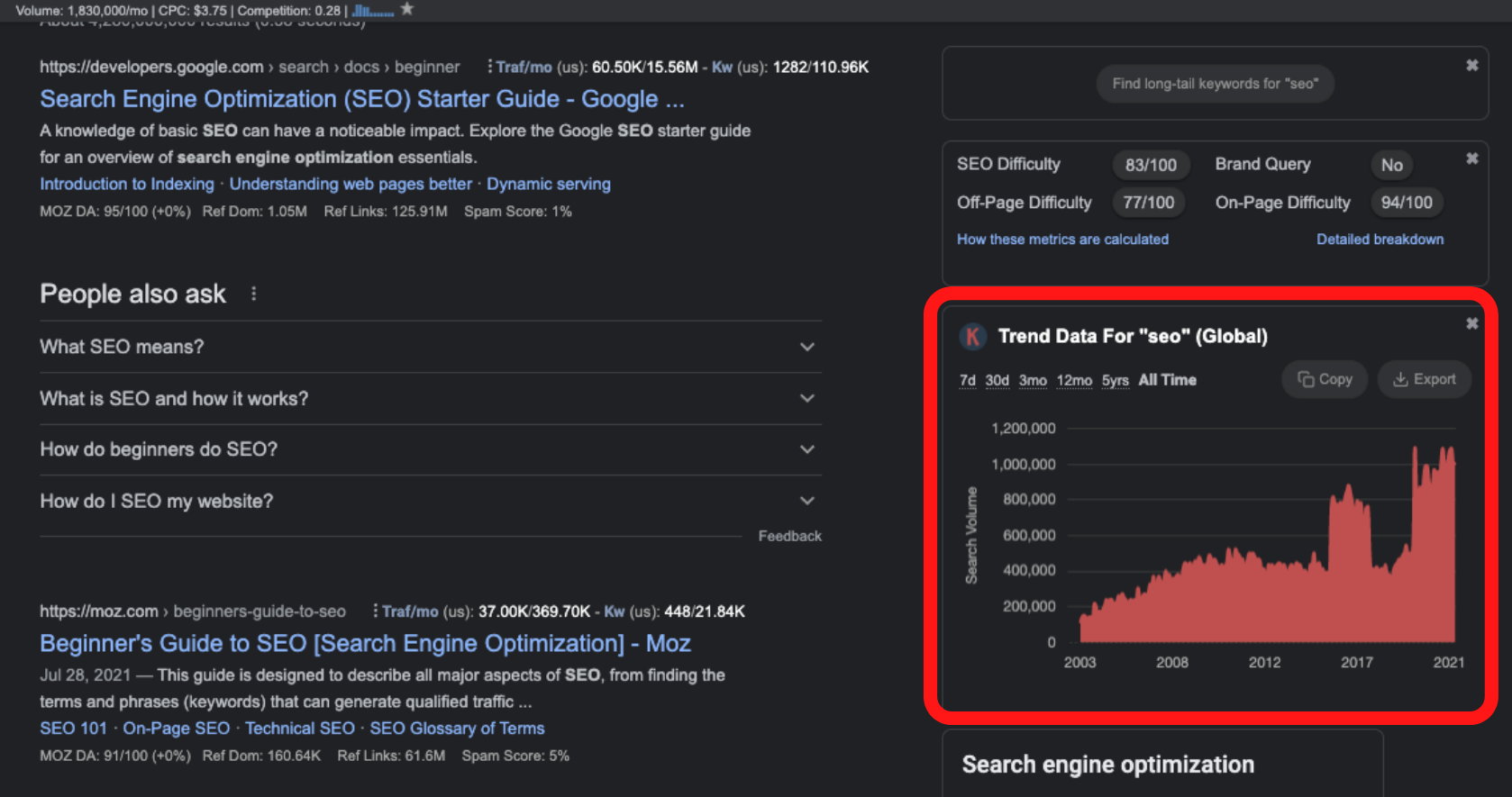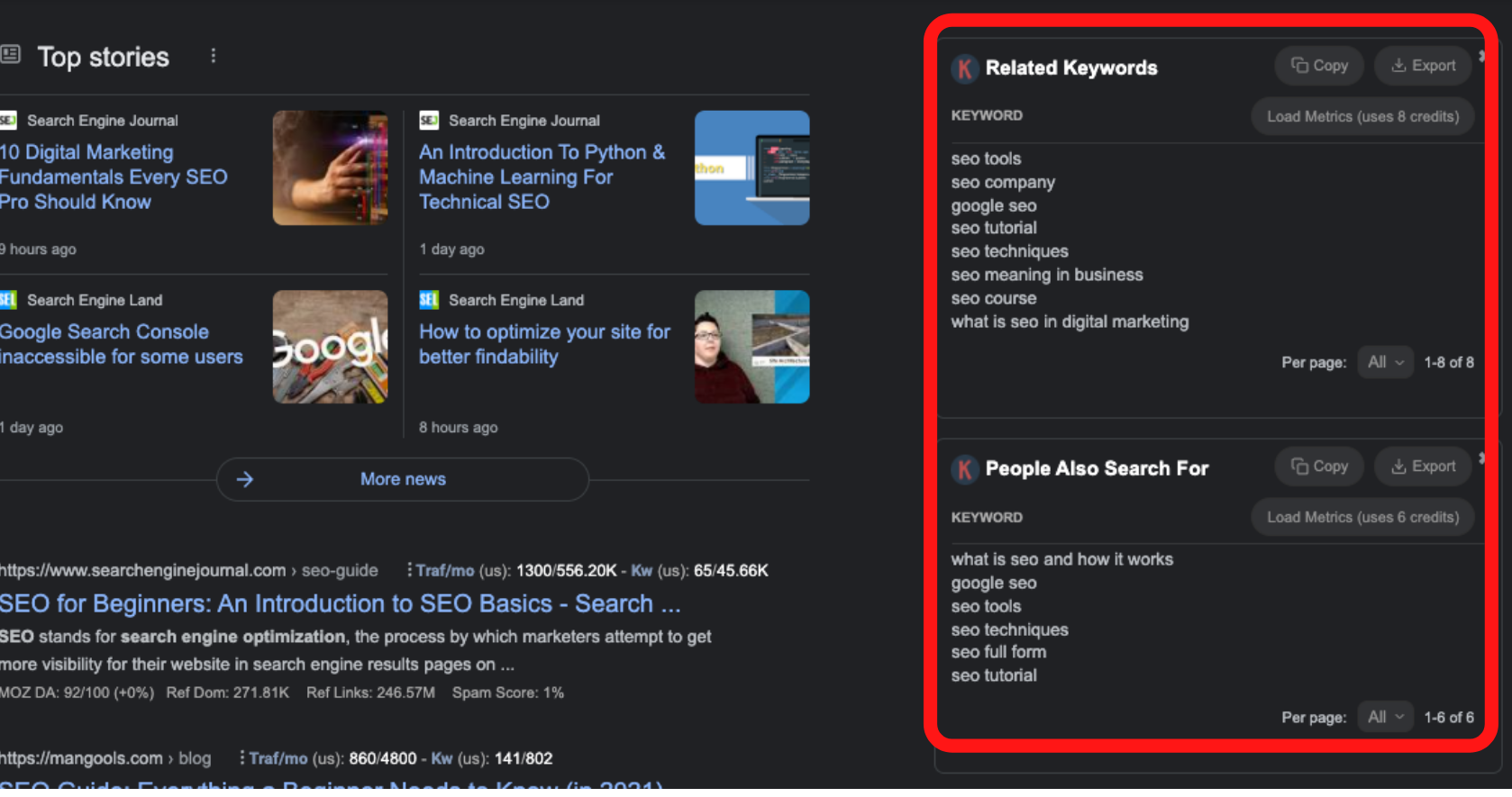 If you're new to keyword research, Keywords Everywhere is a great place to start.
Ubersuggest
Ubersuggest from Neil Patel falls somewhere between Keywords Everywhere and Ahrefs. It's not the most simple, but it's not the most robust, either. We love it because it's very user-friendly and easy on the eyes. The data is also easy to digest.
On the homepage, enter a keyword to get more information on it. Let's continue with "SEO."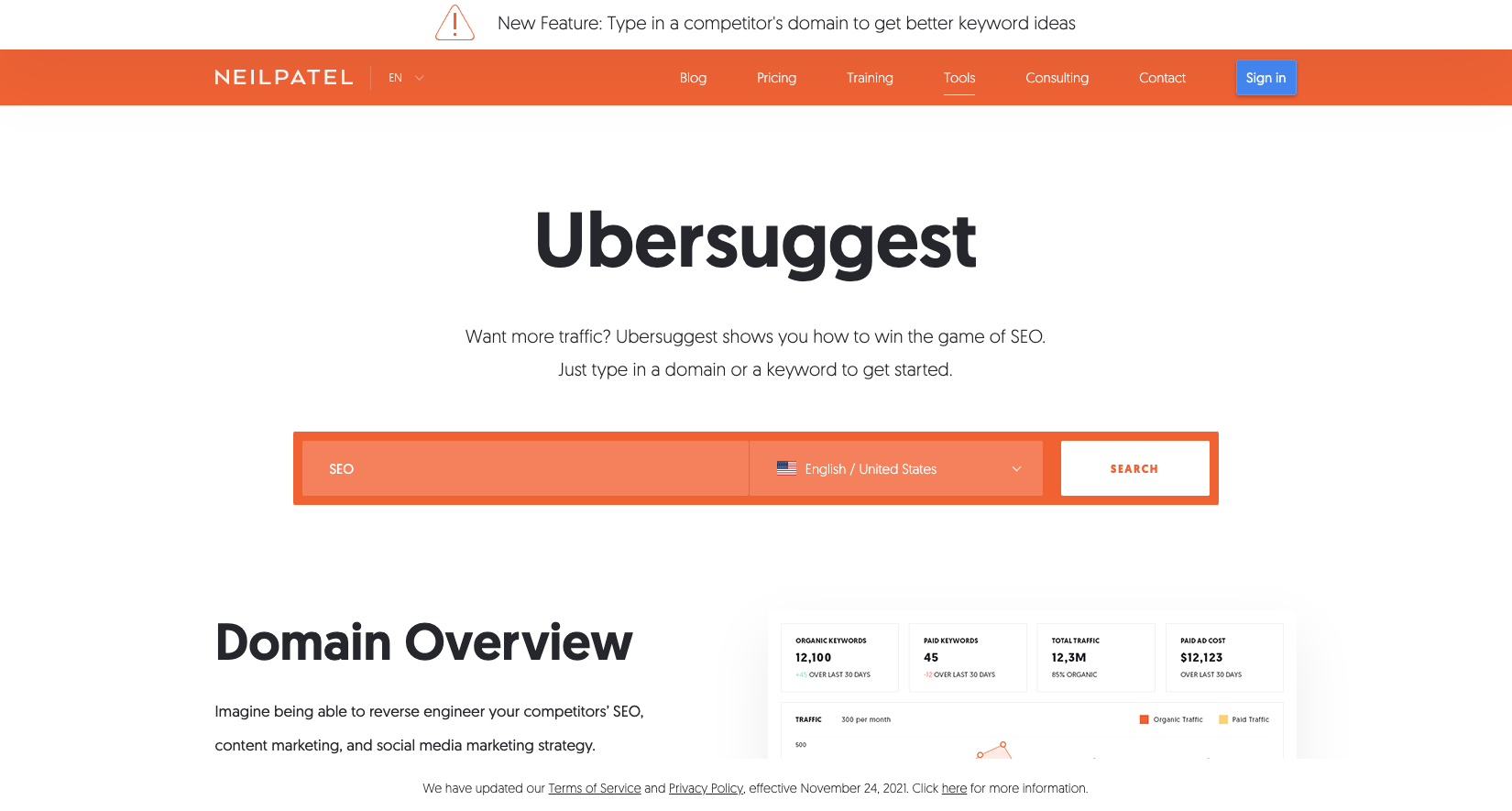 The next page tells us the search volume, difficulty, and CPC — not unlike Keywords Everywhere.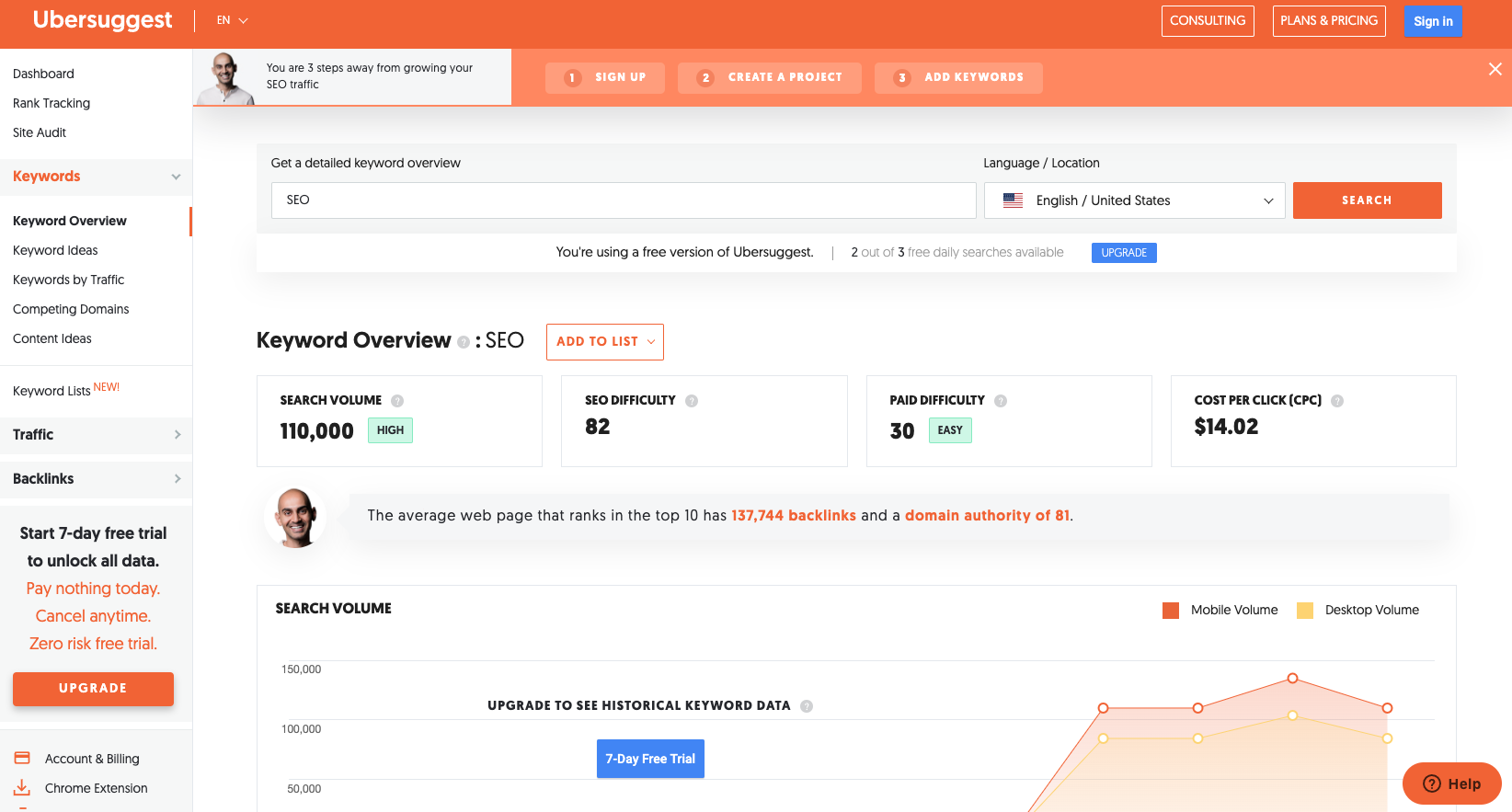 But let's keep scrolling! Further down, it gives us additional keyword and content ideas. (The results here are a little funky because it's understanding "SEO" as both an acronym and a word/name. Seo Yea-Ji is a South Korean actress. Most of the time, your results will not look like this!)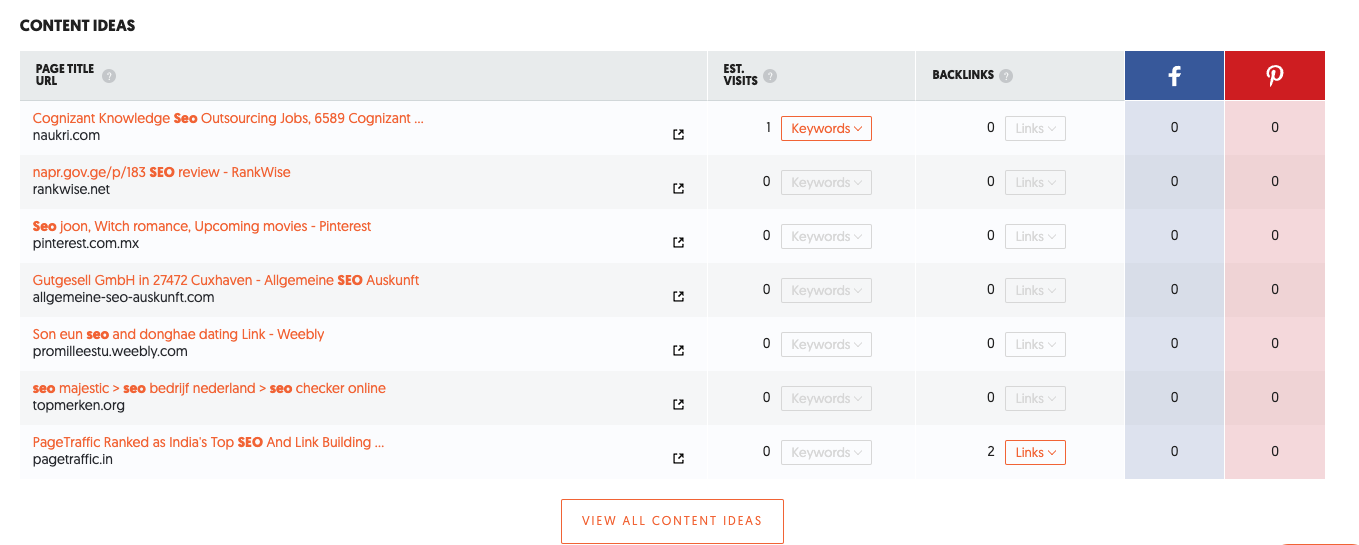 In Ubersuggest, you can also enter a domain name on the homepage. Let's do megangrant.net once again.
Here, we can see how many keywords we're ranking for, monthly traffic, domain authority, and the number of backlinks. Once again, you can click on any of these for more information.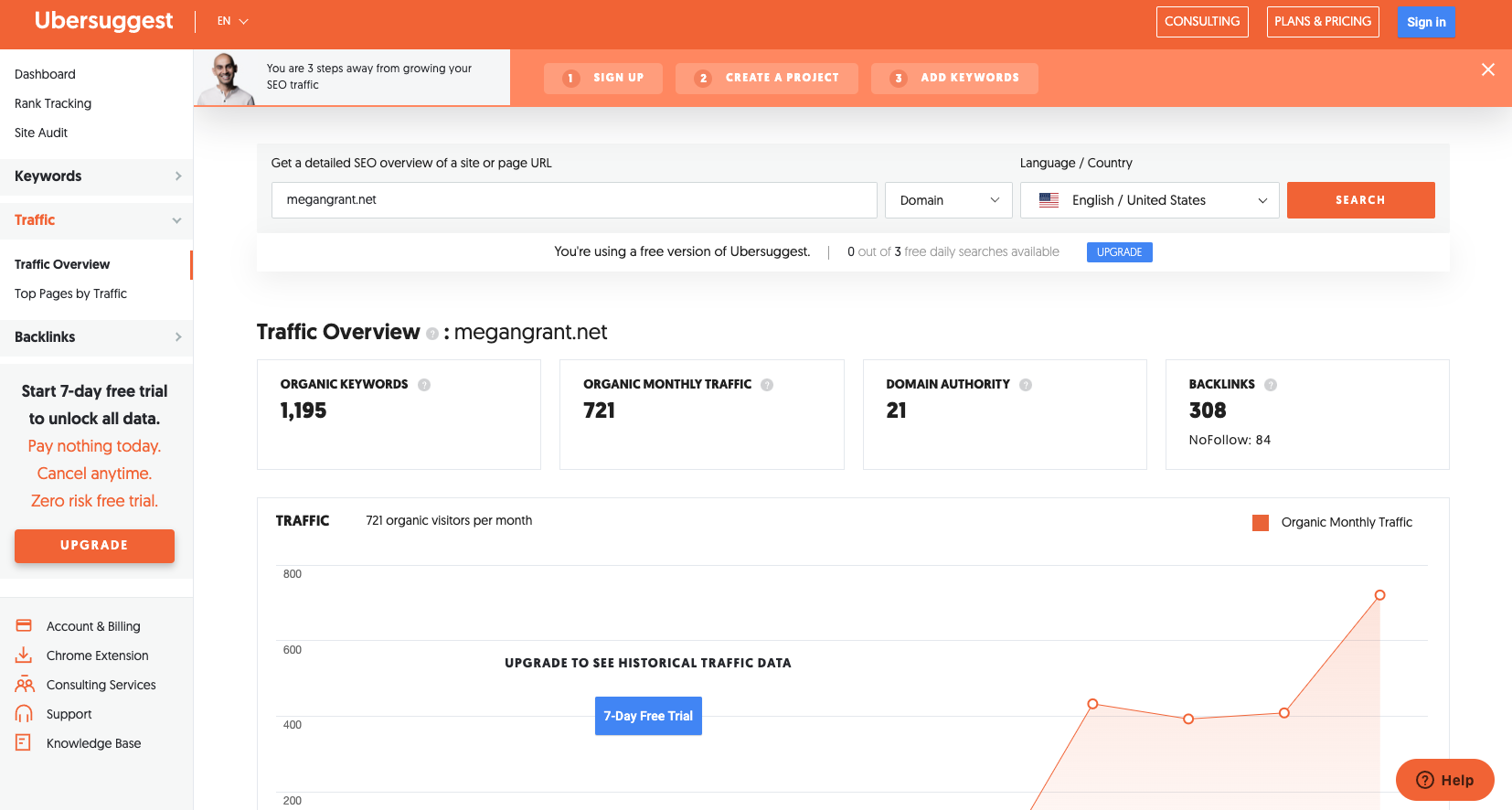 Further down, we find our top pages and top keywords.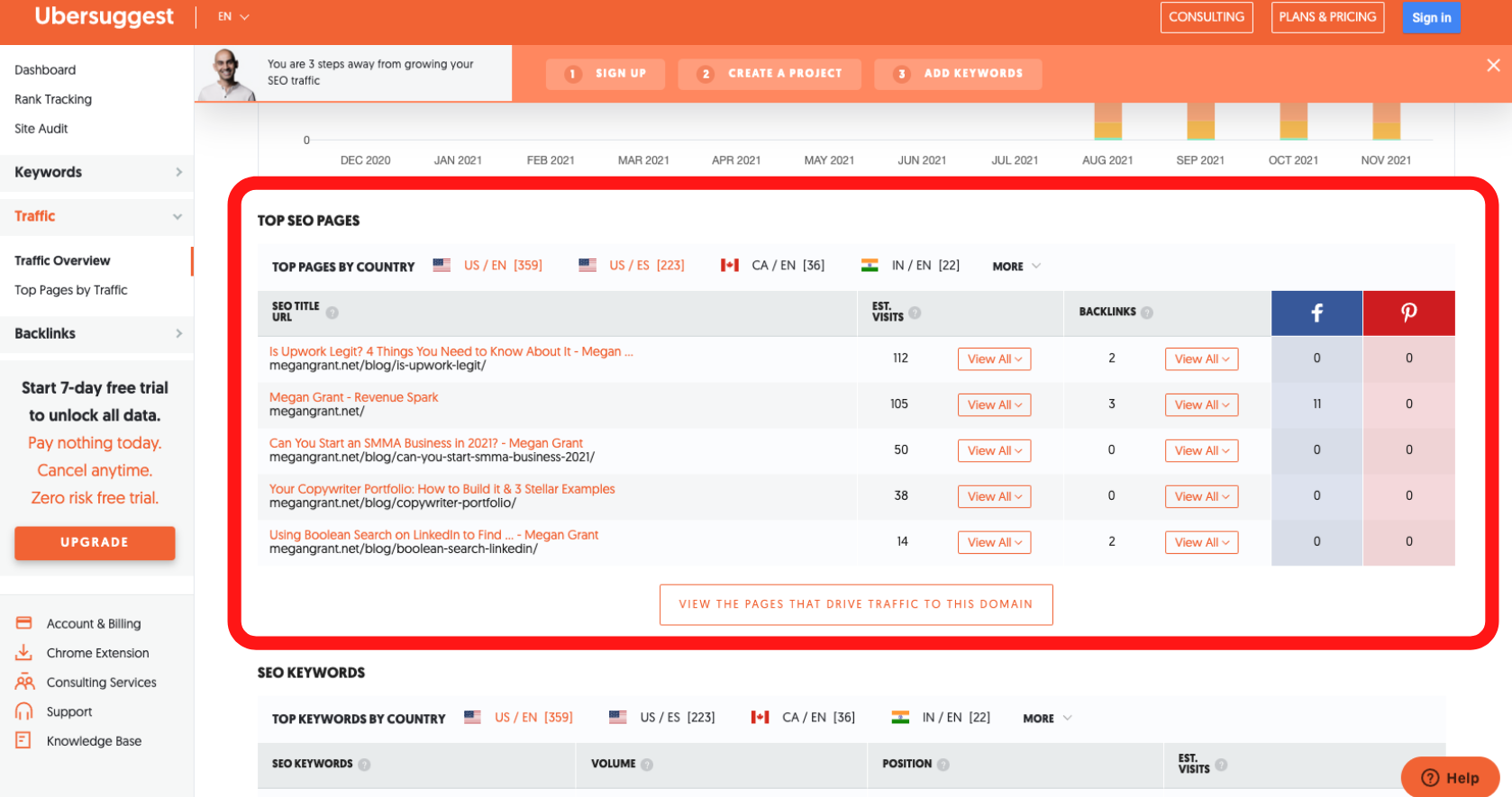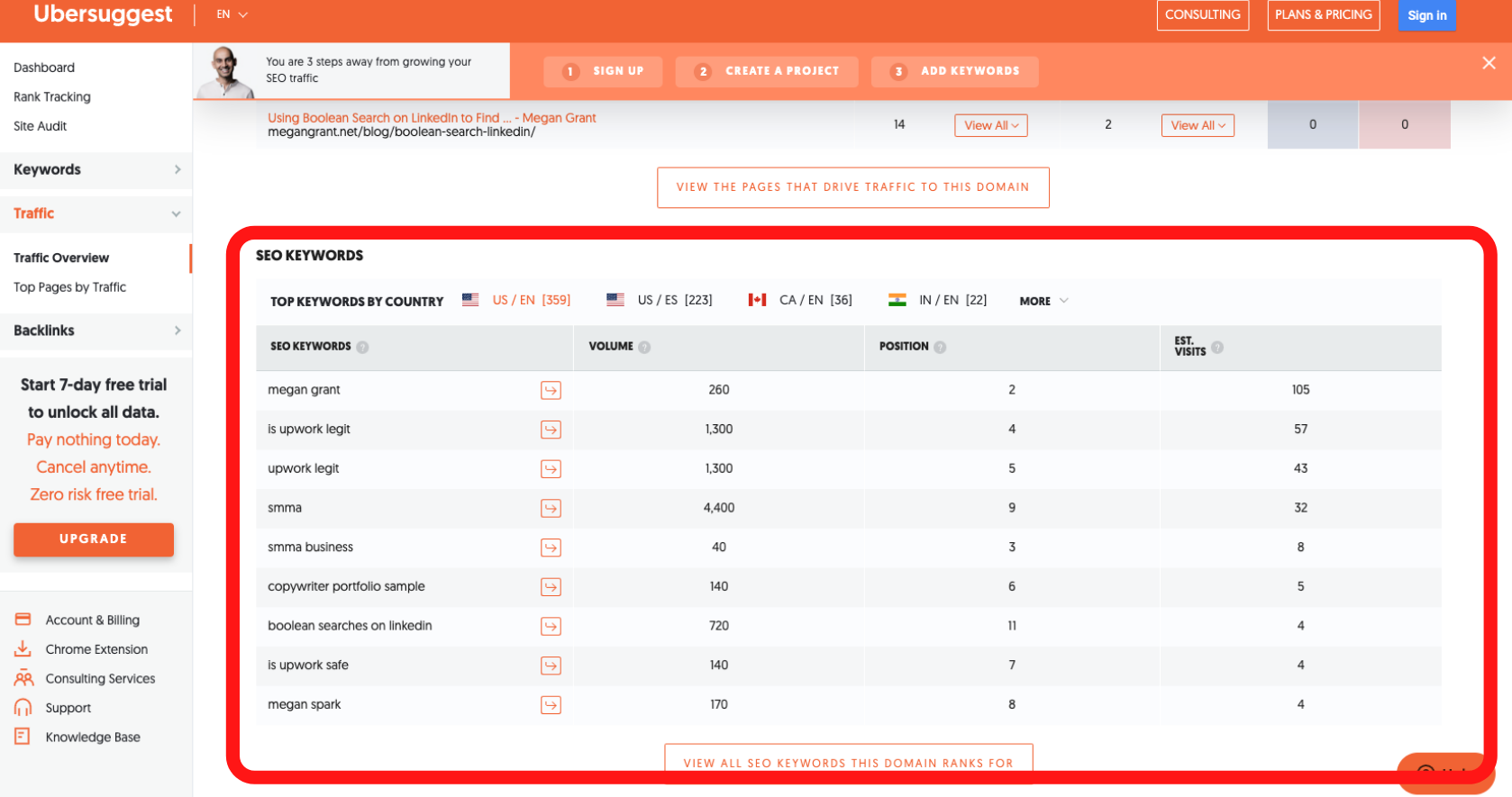 For Not-Really-Newbies
These next two are more in line with Ahrefs.
Semrush
Semrush has a lot of the same bells and whistles as Ahrefs. One thing we're a big fan of is the tool's backlink audit.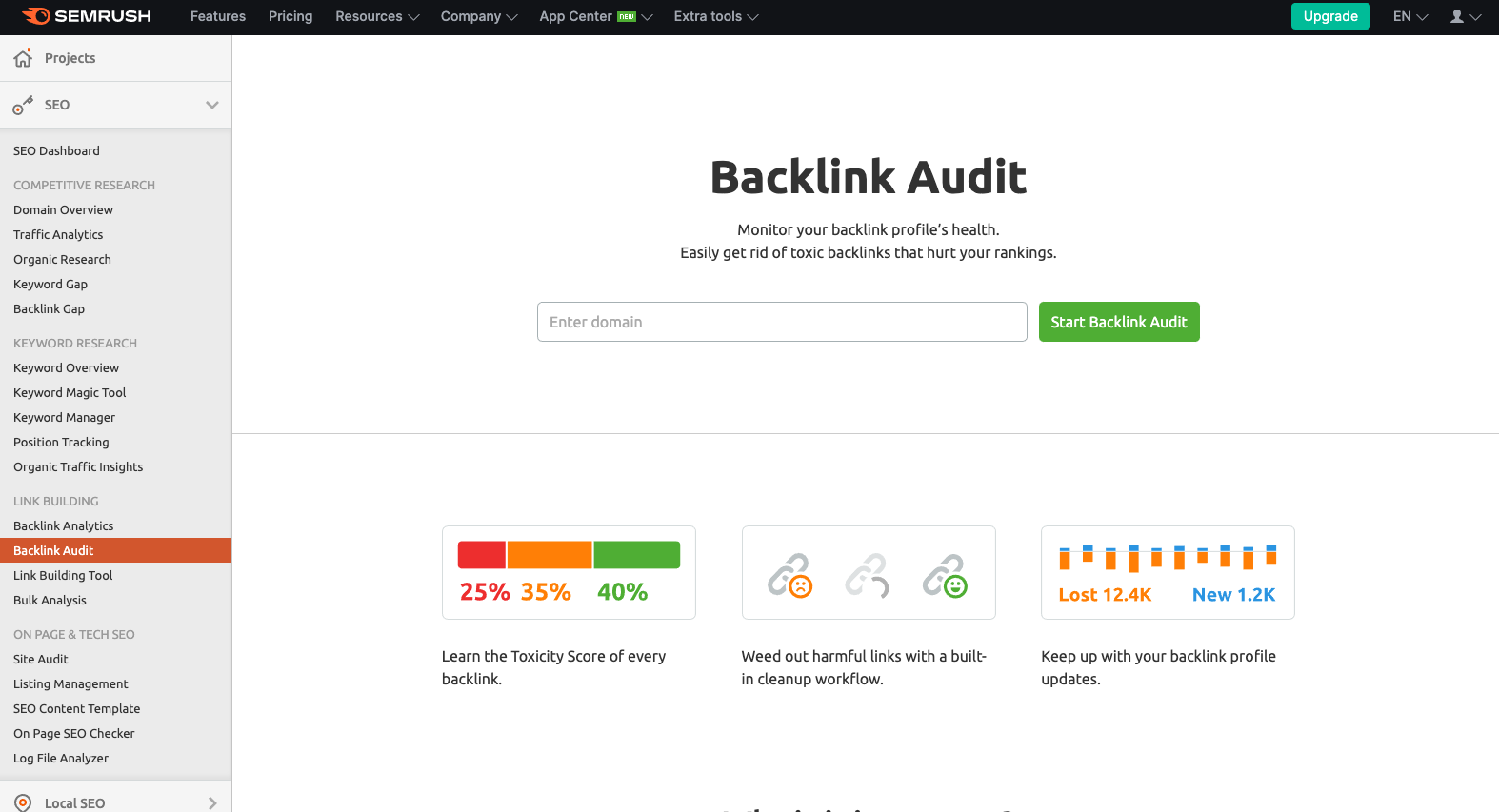 Put in any website's URL (like a competitor's) and see where that site is getting its backlinks from. If you're auditing a competitor's site, reach out to whoever gave them a link and see if they'd be willing to do the same for you.
Semrush also has keyword tools galore. Use the Keyword Magic Tool to get tons of keyword ideas and view all of the queries' relevant metrics.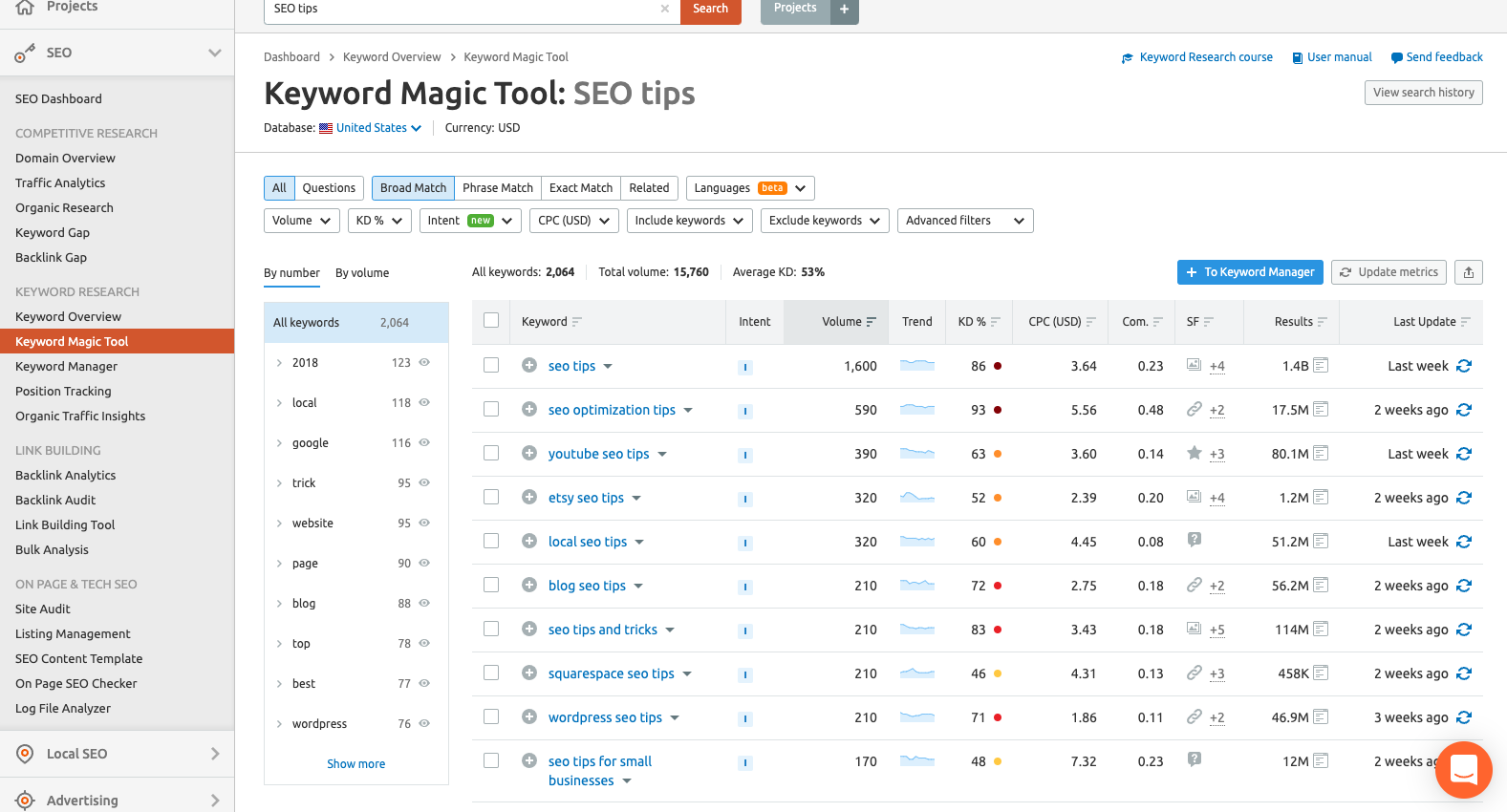 SE Ranking
SE Ranking is another great one. This SEO reporting tool is a serious powerhouse, with features that let you track and monitor:
Keyword positions.
Competitor performance.
Backlinks.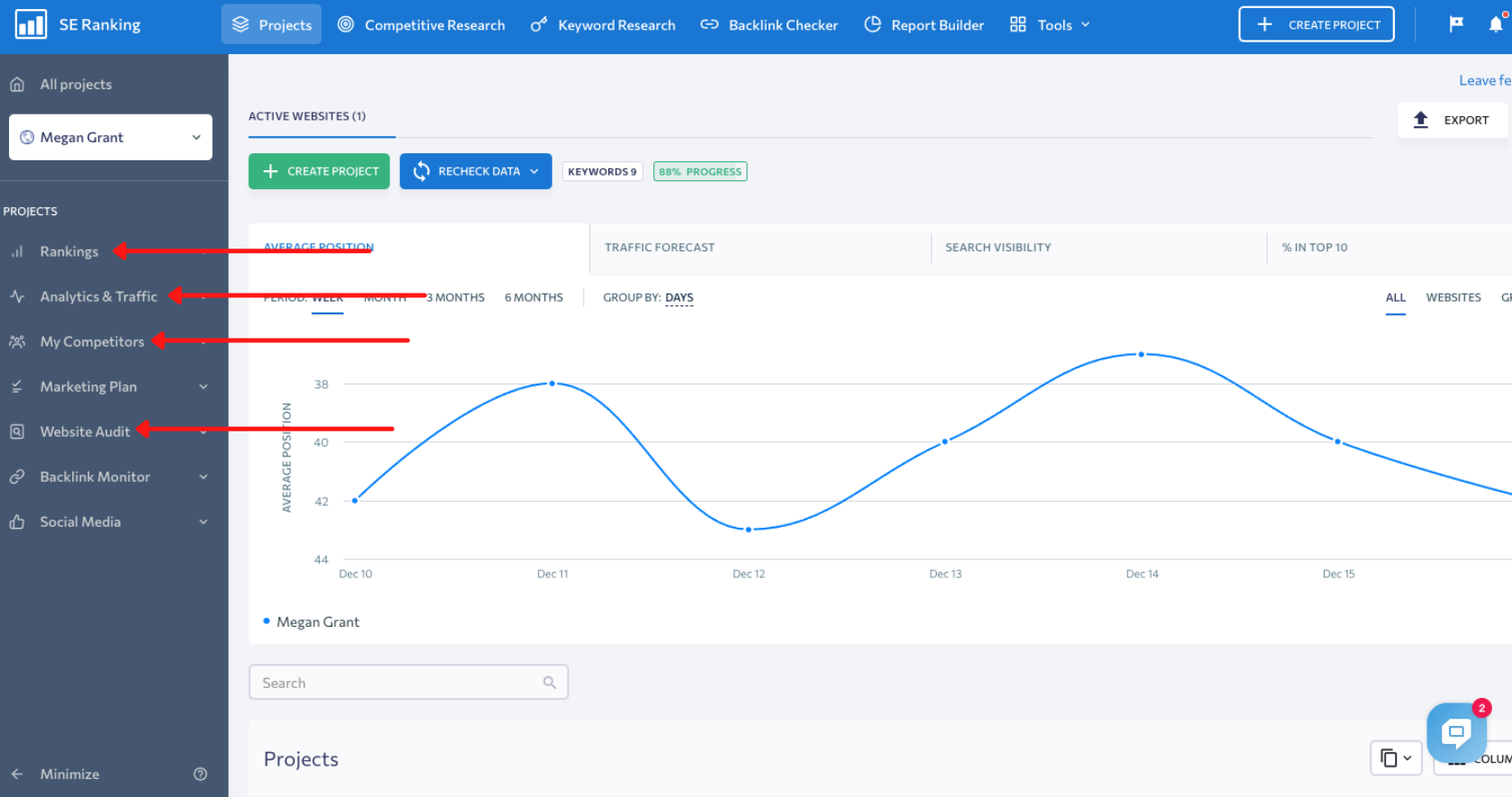 You can also do in-depth website audits to find where you're winning and where you can improve.
These are very, very condensed reviews of these additional SEO reporting tools, but from experience, we can vouch for each of them.
While we consider Ahrefs the best SEO reporting tool, you definitely have options, all of which are excellent in their own right!
Confused? Is your head spinning? We get it. SEO is anything but easy. That's why you let the experts handle it. Contact Spark Content Agency today and let's talk about your blog.